Modern business teams need a self-service data workspace.
All BI projects start with a simple goal — provide scalable, reliable dashboards for the business teams so that you don't have business teams sharing clunky, manually built spreadsheets floating around, which are hard to QA and maintain.
Yet six months after every BI project, you end up with data teams overloaded with JIRA tickets from business teams for dashboard updates and even more spreadsheets than they started with.
Here is an example of a customer we work with. This was their setup in the Marketing team despite everything built by the BI team on their internal data warehouse.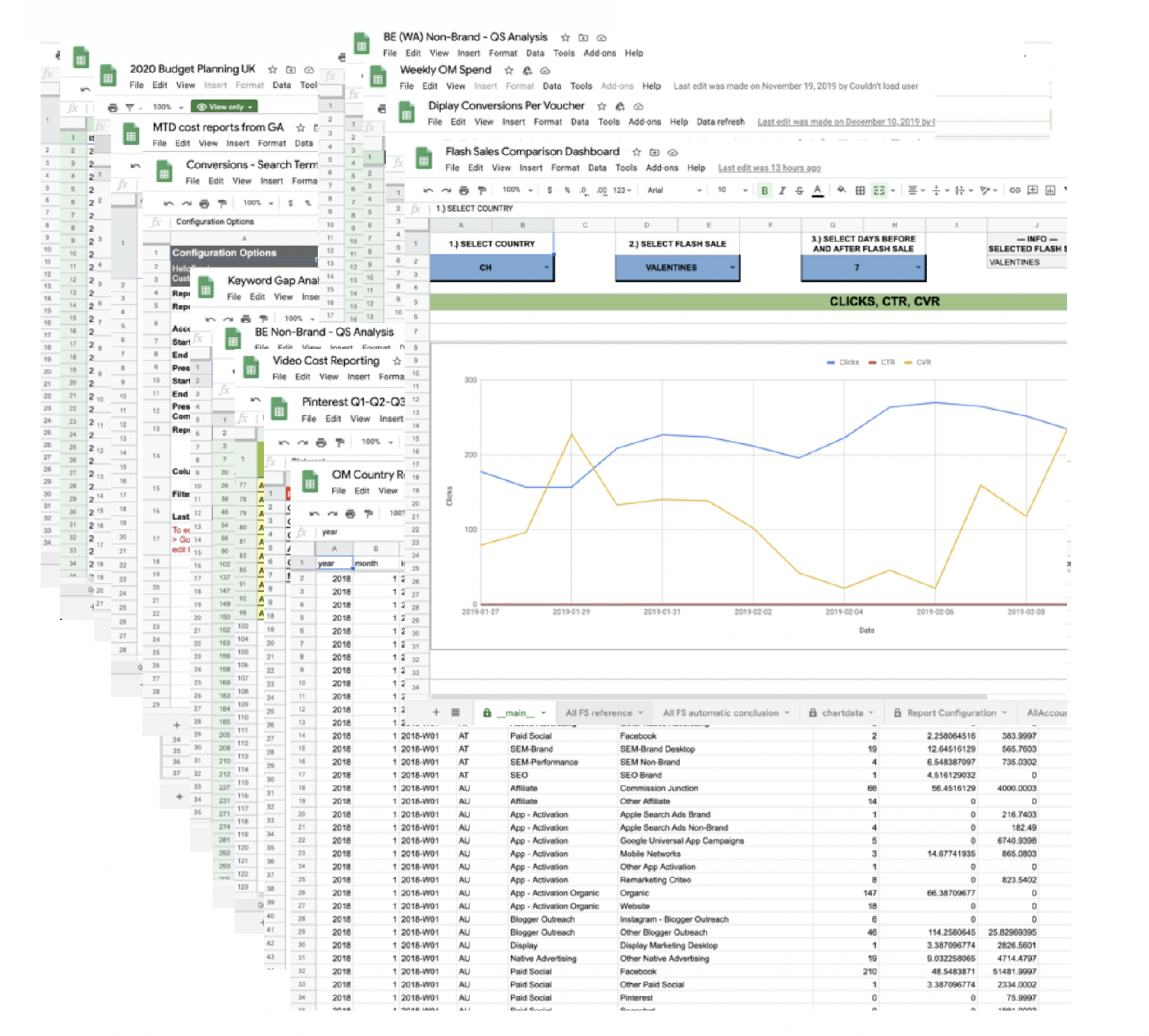 Why are spreadsheets and slides so hard to kill? We think it's because dashboards are used to solve what is primarily a reporting problem.
Dashboards are not reports.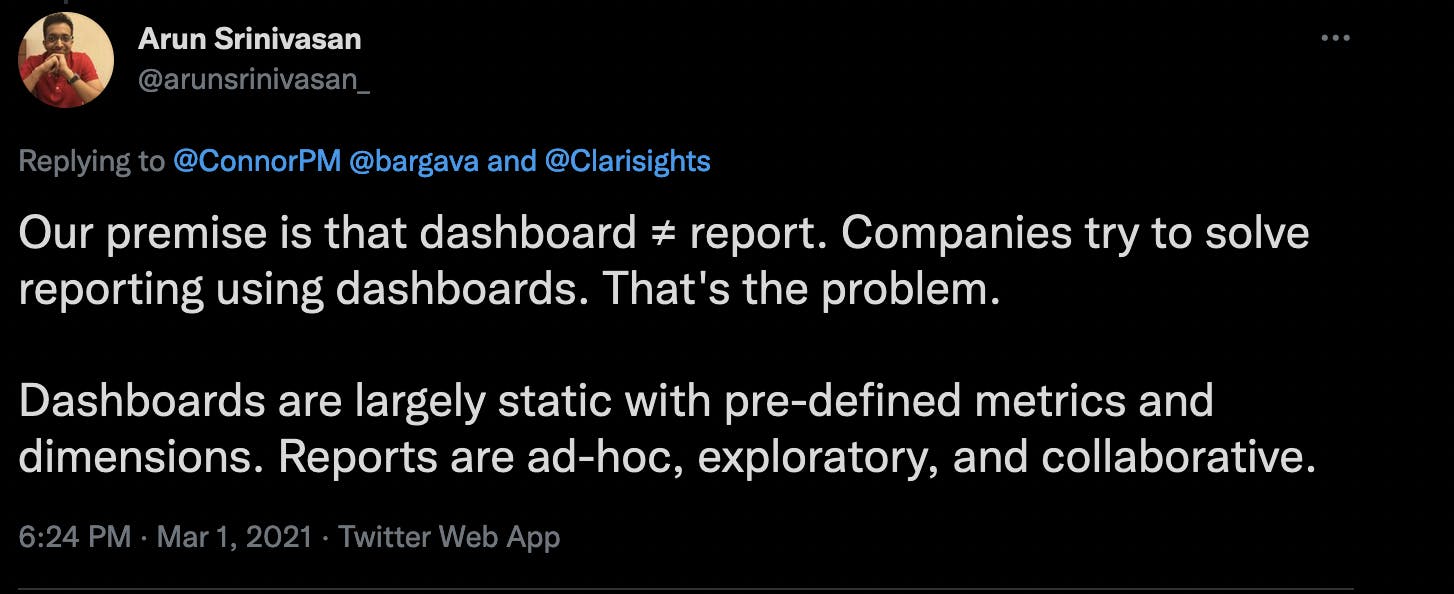 Every customer we have worked with over the last 24 months had an internal BI solution and an overworked data team struggling to keep up with JIRA tickets to churn out dashboards. Yet, business users never entirely stopped building time-consuming spreadsheets or spending days before monthly marketing meetings painstakingly taking screenshots to put together for a slide.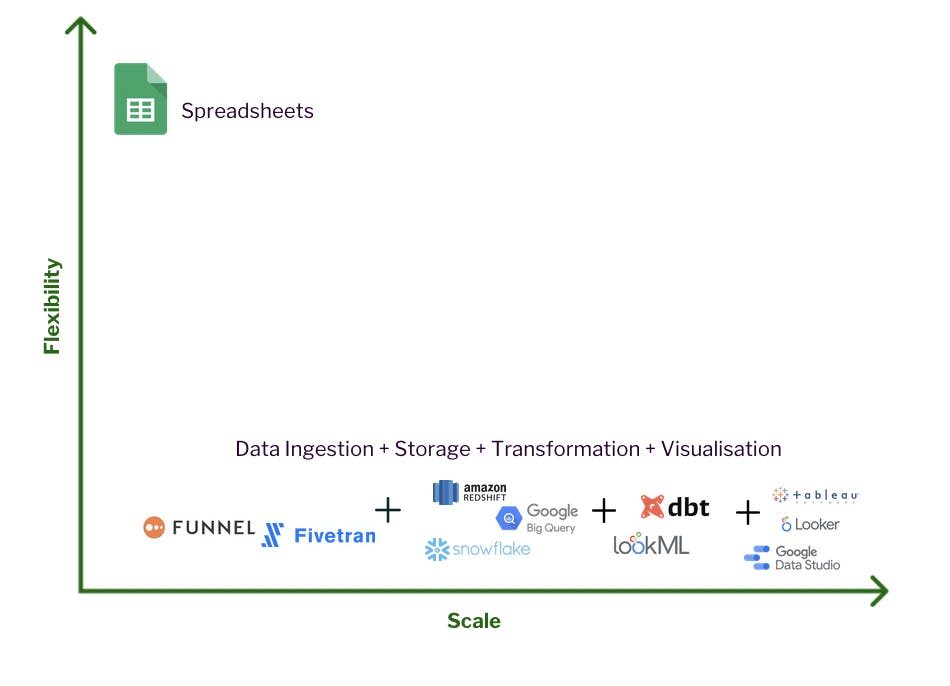 Dashboards are poorly suited for what is primarily a reporting problem.
We think the way to solve this problem; you need a platform that is the happy union of the flexibility of spreadsheets, with the scale of a data warehouse, visualization capabilities of a BI platform, and the collaboration of docs.
This is why we are building Clarisights, a SaaS reporting solution for modern data-driven marketing teams that offer business users to own reporting within their team without worrying about collecting data, writing SQL, or waiting for tickets to be answered.
Over the last 12 months, we have grown our revenues 4x, became profitable, and have Marketing teams from Unicorns around the world like Delivery Hero, HelloFresh, Glovo, About You, Trade Republic, etc using us as their go-to source for Marketing reports.
We believe business teams need a no-code self-service data workspace that allows them to move from consuming pre-built dashboards to building their own reports without worrying about data integrations, data transformations, or building performant SQL queries on large data sets.
It's an incredibly hard problem to solve, imagine building your data ingestion and transformation pipeline, custom OLAP data store, and your visualization layer.
To help fuel our vision to build a no-code data workspace for business teams, we are pleased to announce a $14M Series A led by Ashish Agrawal at Sequoia Capital India. They are joined by Jambu Palaniappan from OMERS Ventures and an incredible group of Angels like Guillaume Cabane, Zach Coelius, Max Altschuler, Connor Murphy, Jens Lapinski, Balthazar de Lavergne, Anoop Vasisht, Anil Hansjee, Declan Kelly, Rahul Kayala, David Rosskamp, Brock Saunders, Anand Jain, Srikrishnan Ganesan, Vaibhav Domkundwar, and others.
Our early believers, Christian Weniger from signals Ventures Capital who led our Seed round and Cavalry Ventures also participated.
While we have by no means "made it", it has been a bumpy road with lots of struggles and I want to give a shout-out to some of our earliest believers Vaibhav Domkundwar of Better, Connor Murphy of Techstars, Videesha Bockle, and Balthazar.
No fundraising announcement is complete without a mention of hiring. We are a small team of 20 who punch way above our weight and now are building our early GTM and customer success teams.
We are solving some incredibly hard problems in Engineering and while we will be the first to admit that we don't have it all figured out, you will find us self-aware and curious to get better. The work you do will not be standard, boiler-plate code but building distributed systems at scale, working on a custom HTAP data store, building DSLs, or working on compilers, if you find this interesting, please think of us. If you're interested in knowing more about our engineering challenges, please go through them here :)
Lastly, we wouldn't be here without our customers who took a chance on a small team with an unfinished product on something that's an incredibly important and pivotal part of their growth and we hope we have done justice to their faith. They are the reason why we get up every day to do what we do.