A Day in The Life of a Clarisights Solutions Success Manager
Solutions Success Managers play a vital role in helping our customers make the most of our product. Go behind the scenes with one of our SSMs to learn more!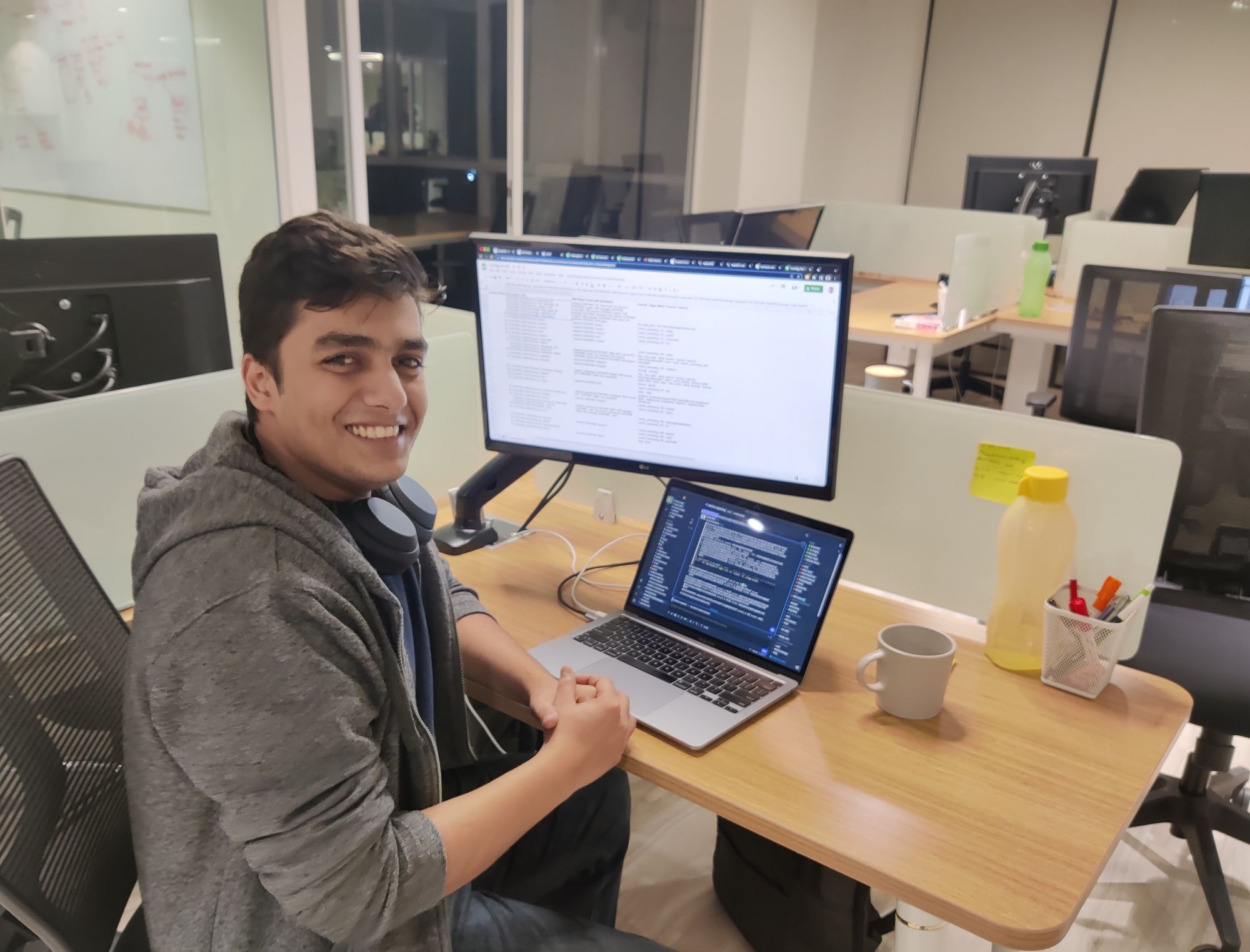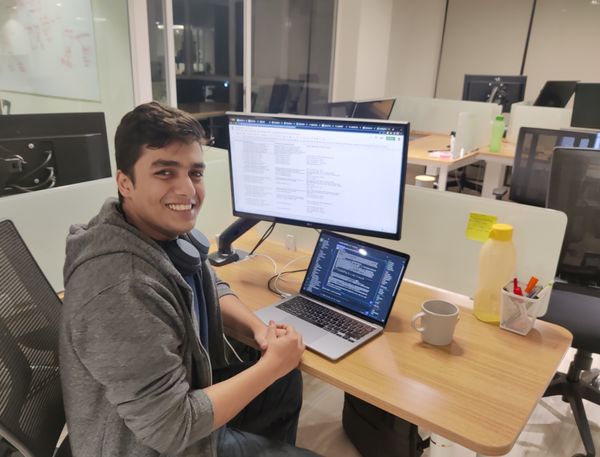 What does the average day of a Solutions Success Manager (SSM) at Clarisights look like? One of our SSMs Avisek Rath takes us through his day, shows us why his role is so important in Clarisights, and what it takes to be a good SSM.
My name is Avi and I'm a Solutions Success Manager at Clarisights. This is what an average day (and week!) looks like for me.
Morning
I'm located in India, but the customers I look after are mostly based in the US and Europe, so my workday starts at around 1:00 PM. However, I am up and about no later than 9:00 AM India time. My day starts on Slack; several customer messages are typically waiting for me. Usually, these are minor data problems or issues with product functions that are blocking customers from getting something done. I immediately get into problem-solving mode: Why is this data missing? Why is there a block?
There are usually multiple reasons for customer issues. Clarisights is a very powerful tool. When I first started at Clarisights in 2020, we functioned quite reactively. We had all kinds of issues and often didn't realize them until customers told us. But over the last two years, we've become much more proactive, and better, at preempting customer problems. Today we can detect immediately when something goes wrong, rather than waiting for the customer to tell us.
This sounds straightforward, but it's not; Clarisights runs close to a million pipeline tasks every day across all customers. We have to keep an eye on many things all at once. Thankfully, our world-class Engineering team has built several tools that have helped us become much more proactive. We've also grown as an organization with many more specialist functions that look at various aspects of the product and the team: Solutions Engg, Product Engg, Talent, Finance, Growth and so on. This means there are many more smart people collaborating on improvements.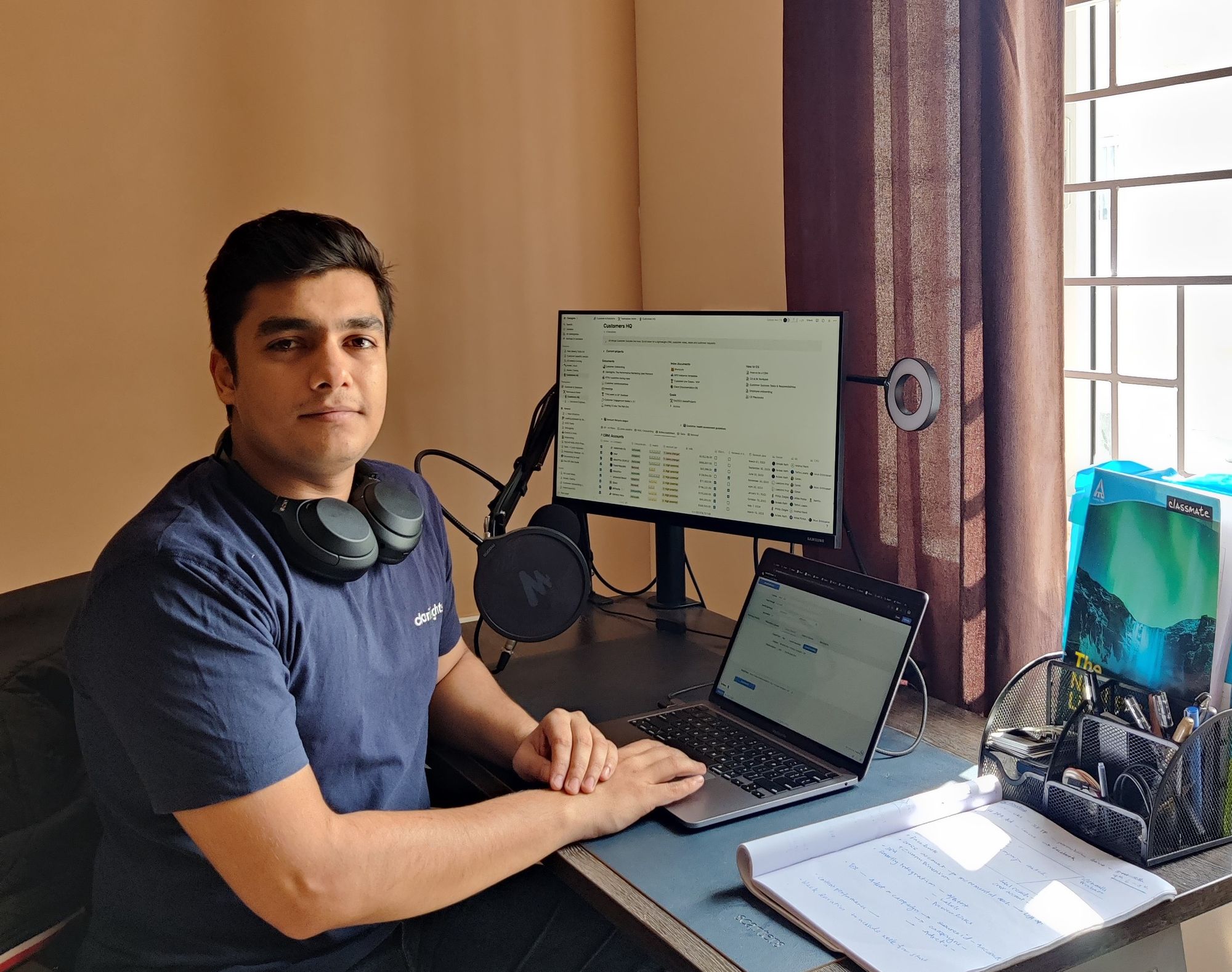 For example, the Solutions Engg team recently used advertising import logs to build a health dashboard that tells customers and SSMs if data imports have been completed successfully. The dashboard also sends out alerts if imports fail. This has massively reduced ambiguity and improved data sanity. So, my job as an SSM has evolved over the last couple of years.
But back to my day! I spend around 60% of my time engaging with customers directly. Typically in a week, I block approximately two or three hours for weekly or biweekly catch-ups with existing customers.
Our customers plan their OKR's around us which show how important we are to their workflows.
Let's take Monday. My first call is usually around 2:00PM, which is when I catch up with Delivery Hero. As an SSM, my core deliverable is to ensure customers can make the most of the platform. This means directly troubleshooting for customers, in case of short-term problems, and working with the Solutions Engg team when we need more creative, involved solutions. Coordinating between the customer and other functions is key. SSMs must learn with and from our customers, and relay information from the customer to Product and Engg teams.
Our customers plan their OKRs around us, which shows how important we are to their workflows. Our platform is a daily-use product, and customers are constantly trying to fit their reporting workflows into Clarisights. Often they do this for use cases that Clarisights was not intentionally built for.
This is part of what makes Clarisights such an exciting place to work. These scenarios push SSMs to be creative, to understand the use case, and figure out how to unblock customers. Whilst also noticing patterns and working closely with Engg to push the product further.
The SSM role is necessarily very cross-functional. You quickly become a polymathic generalist. This is why and how one of Clarisights' first SSMs later moved to a senior role in Product. This is also something that we tell new SSM hires and job applicants: the SSM role can be a springboard into roles in all kinds of functions: Product, Growth, or even your own startup.
Mid-week Fires
What happens when customers face serious trouble? In this case, constant communication is key. Our customers have access to a specific Slack workspace, where almost every user from their organisation is available. Anybody can reach out with a question or problem they're facing. Now, this makes it very easy for us to catch fires pretty quickly, as we get feedback constantly.
When we release something new--a feature or an optimization--and we share it with customers, we are going to get feedback almost instantly. This feedback loop is quick, short and mostly asynchronous. Which is great for remote teams on both ends. These days, the only places we tend to have synchronous conversations are weekly catch-ups or when a topic must have a sync meeting.
Afternoons and Evenings
In the second half of the day, I have focus time blocked out for myself. This is time for me to focus on longer-term projects and tasks that I am driving myself or contributing to. Like writing guides for customers or this post!
Focus time is not a luxury I have always had – I used to let the customer run my calendar completely! But now that I have grown into the role and have a sense for the ebb and flow of work, I find both the time and need to focus. Therefore, after lunch, you are more likely to see me solving a specific use case for a customer, working on documentation, recording demo videos, writing a help article, preparing a presentation, drafting an onboarding plan for a customer team, or helping a new employee get the hand of our product. Phew.
Our experience and initiative directly plugs into the future of the Clarisights product and platform.
At Clarisights there is always a healthy mix of short-, medium- and long-term projects to work on. Typically, I chat with the Engineering teams towards the end of the day.
I'm going to steal a line that Clarisights CEO Arun likes to say: SSMs are custodians of the product. It is our job to make sure nothing stands in the way of customers making the most of this powerful tool. This means I often go back to my engineers to solve harder problems, optimize platform performance etc. Working together across functions to crack a really challenging problem and seeing customers respond to this is just exhilarating.
I remember once Anshul Ravikumar--one of our Solutions Engineers--and I were up till 12 AM in the office trying to wrap our heads around how Google Ads Custom Conversions worked and what had changed. This was sometime in 2021. Eventually, we cracked it. The euphoria of that moment... when we figured out all the nuances... and when the whole picture started to make sense, is unforgettable.
Making myself redundant... in a good way
As SSMs, our experience and initiative directly plug into the future of the Clarisights product and platform. In some sense, you could say that my job is to make myself redundant in the long term by making the platform more self-service. So, another important aspect of my day is constantly thinking about improving our product and customer experience.
For instance, consider how we onboard new users now. At least once every two or three days, I have an onboarding session with a new user. I take customers through the basics of the product and show them how to get productive on our platform. We want all our users to be power users. These 1-on-1 sessions are a key part of how we make this happen.
But this cannot scale. We can't onboard our next 40 customers, and hundreds of new users, in this way. So the question is: How do we reduce the need for personalized onboarding, while still ensuring that new users are able to get value from the platform as quickly as possible? This means making the product more and more self-service right from day one. These are the kinds of questions SSMs grapple with as Clarisights grows.
Helping with Growth
As an SSM, your impact is meaningful and directly impacts business. Recently, I've started helping out Arun, our CEO, and our growth team. It's an exciting way of bringing all my experience to a new aspect of business at Clarisights. A few months ago we started engaging with a major multi-billion dollar company with a complex performance marketing setup. They are the ideal customer profile for Clarisights.
While Arun led the business pitch and presentation, he asked me to support our pitch with use cases. Given my experience with such a diverse set of customers, my job was to think about all the different ways in which this potential new customer could use Clarisights to optimize their performance marketing operations. So I pulled together customer quotes, mini case studies, screenshots and other collateral to support Arun's sales pitch. And it went really well.
Clarisights is a revolutionary product and is a gamechanger for our customers. This is why curiosity and confidence are central qualities of being a Solutions Success Manager.
Curiosity and Confidence
There are broadly two things that are very important for this role. The first is curiosity—being able to ask why over and over again to get to the root of a problem. No two customers of Clarisights are alike. While we are a SaaS product that is designed to address the needs of many different types of businesses, each customer approaches the platform slightly differently. Each customer has different expectations, business realities, and performance marketing goals.
A good SSM really gets a grip on their customer's business. Curiosity is what enables this kind of knowledge. This is also why we often tell people that the SSM role is possibly the most versatile role we have at Clarisights. We sit at the intersection of so many things: engineering, product, growth, and pricing, but also our customer's businesses. On any given day of the week, I could be dealing with customers from finance, entertainment or food delivery. All in the space of two hours!
The second essential quality is confidence. Being able to hold your own with customers who are way more experienced, and experts in their domain. Can you have a meaningful conversation with them? People are always happy to share their knowledge, but you have to be comfortable building and maintaining these relationships. In many ways, Clarisights is a revolutionary product and a game changer for our customers. This is why curiosity and confidence are central qualities of being an SSM.
So, that's what my day is like! It is very diverse, fast-paced and challenging. And at the end of every single day, I am satisfied that through this great product I am making a real difference in how huge businesses turn their data into a competitive advantage.

Clarisights is hiring SSMs and Software Engineers. To know more, and browse through all open roles, check out our careers page here.